Please note- no one without a VROC member number can buy a patch - it is in their charter to uphold the copyright laws that you must be a registered member.That being said, you can join VROC if you have not already - they are at
www.VROC.org,
and it is free, just like our membership. They are like us, only much bigger! Great forum, too....
So, we wanted to have some variety for sizes, so I have a prototype of the three sizes we will have available to us - the original 12" across, the new more petit 9" wide and the highly anticipated 3 1/2" across which is suitable for hats, shoulders, breast pockets, keychains, etc. Here are some pics of the crests along with the prices including the taxes-
All three
The 12"
- $37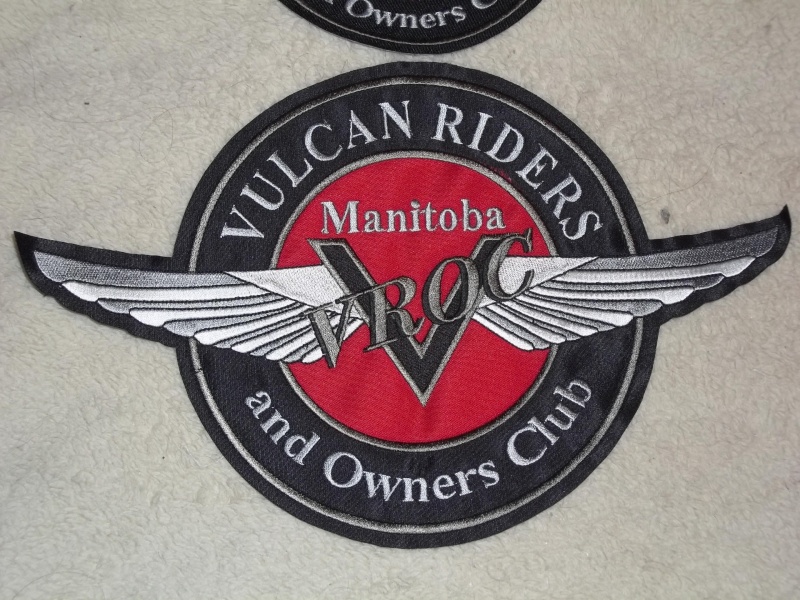 The 9"
- $28
And the 3 1/2"
- $13
I would like to know who would like to order what size of patch by email - email me at
MBVROC@hotmail.com
or PM me thru the forum. Please be prepared to pay for the patch(es) that you order, do not order on speculation. I cannot afford to buy patches that are not spoken for, although I may be buying a few out of club funds to have on hand. If we get our order in relatively soon we can have them available pretty quick. I'd like to aim for having them for the Ride for Dad and the Breast Cancer runs so we can have them stitched on for the Concourse d'Elegance!
If you have any questions or such, call me at (204)688-1795 on the evenings (after 5pm).

_________________
Glenn "D'mon" Seifert President and Webmaster (in training) of MBVROC member of CMMG Jack of All Trades, Master of None